Come August 15, 2022, Indian Railways (IR) is likely to inaugurate the first High Speed Rail, 508 km line, from Mumbai to Ahmedabad. This day is memorable being the 75th anniversary of India's independence. This will be most formidable revolution in Railway technology in India, much more than conversion from Steam traction to Diesel and Electrical traction or from vacuum brakes to air brakes. High Speed Rail system brings with itself a bouquet of new technology in track laying, signaling, rolling stock, railway station management and a new culture regarding the way we look at punctuality and safety. This project is steadily catching imagination of India as people look to a time limit of around 2 hours from Mumbai to Ahmedabad with 9 intermediate stations. Presently the fastest train Shatabdi express takes thrice as much – 6 hours 20 minutes.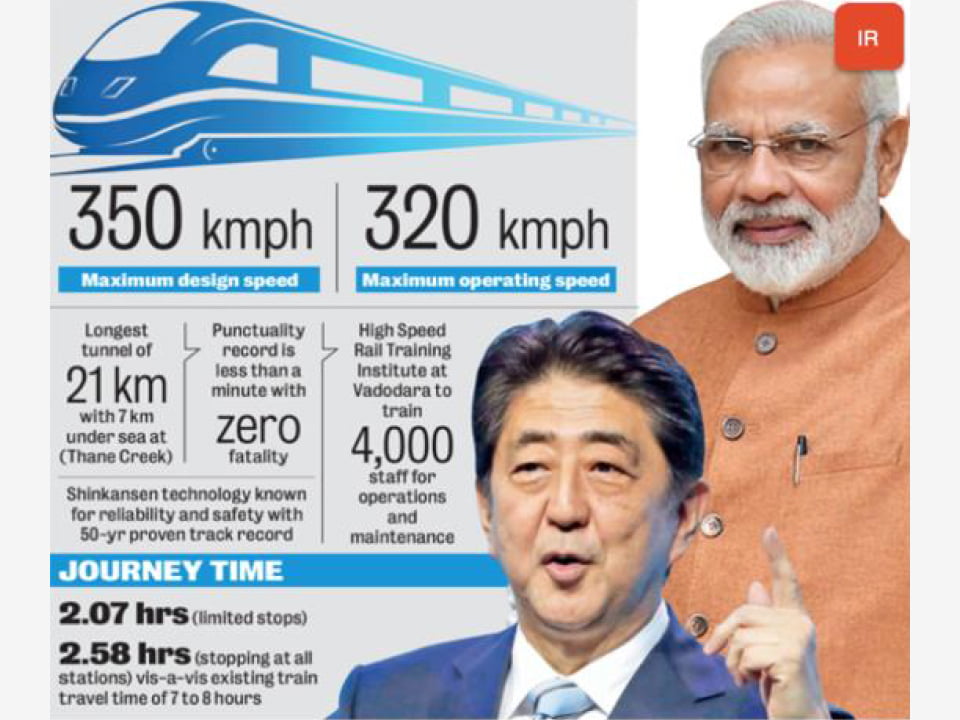 This project is an icon of Indo-Japanese friendship as also of a strong display of commitment to India's Rail development by Prime Minister Narendra Modi. Indian Railways has no previous experience of such a project, being the first of its kind. Yet IR has taken fundamentally correct baby steps for ensuring the project success.
Indian Railways is primarily a broad gauge system – 1676 mm to be precise. There was a strong urge not to create another gauge for high-speed line and also to use some of the existing railway infrastructure for the high-speed project. The underlying idea was to have higher throughput & lower costs. Both these inclinations were set aside. There is no high-speed line on the broad gauge system in the world. There would have been too much delay in developing and validating the High Speed technology for Broad gauge and, thereafter, adopt it in India. And so the costs would actually come out much more with no concern to timelines. Moreover, the present IR system is already overloaded. Indian Railways took a bold decision to adopt "Standard gauge" and to create separate Railway track with associated infrastructure dedicated only to high-speed passenger train operations. There was to be no usage of conventional IR tracks, even in small portions. A new company – National High Speed Rail Corporation Limited (NHSRCL) was also set up with equity stake of two concerned States - Gujarat and Maharashtra along with Indian Railways, thus covering all the stakeholders. Appreciating the fact that integration is key of High Speed Rail technology, Indian Railways chose only "one" country and hence "one" technology as a strategic partner for the project - Japan. 'Shinkansen' is symbolic for high-speed train worldwide; has an untarnished image for safety, punctuality and passenger delight over so many years. Added to this was a strong sweetener of liberal loan of INR 790 Billion (1490 Billion JPY) at 0.1% interest for 50 years with initial moratorium of 15 years. This kind of funding was not offered by any of the other High Speed contenders. Choosing one strategic partner made the implementation plan reasonably simple, as it became somewhat a 'copy-paste' scenario with adjustments to Indian environment. India also chose two most vibrant and business friendly States of Maharashtra and Gujarat for this project for generating sufficient financial returns. Moreover, railway travelers, here in this area, are used to high standards of performance and hence benchmarking would be an added advantage. Above all, it was the political will under the leadership of Prime Minister Narendra Modi and the support of Prime Minister Shinzo Abe of Japan which provided the strong coherence needed for such a mega project to be rolled out seamlessly.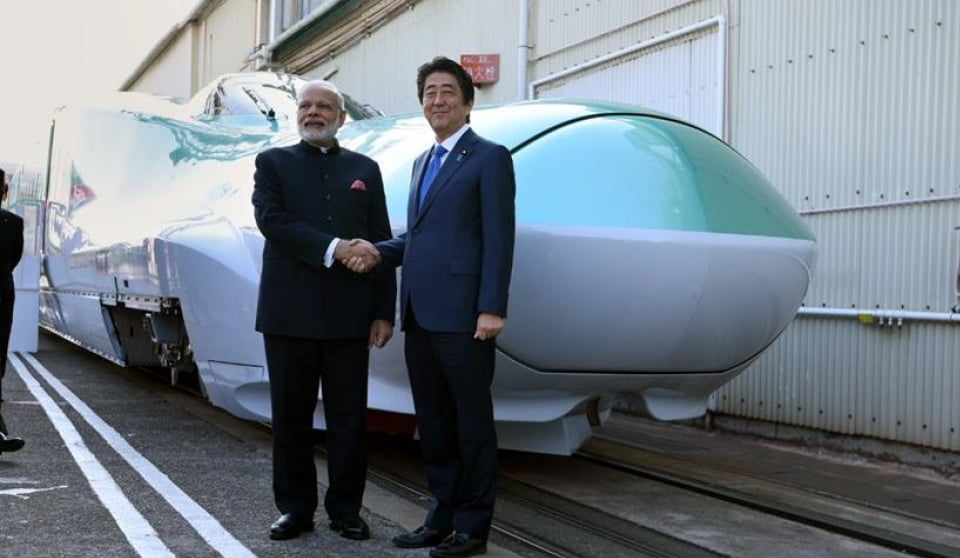 The initiation of High Speed Rail in India too had its share of controversies. The debate evolved around why should Indian Railways spend over 1000 billion INR on High Speed Rail when investments are required to revive the existing creaky infrastructure; accident rates are not coming down; common man will not travel on high speed train and so the project is elitist; price discovery for contract has not been made and there is reliance only on one country etc. There are also ground level agitations in both the States for lack of consultation in land acquisition. There is perhaps, also a feeling among the Japanese that 'Make in India' concept may not be the right strategy for high-speed rail projects because of mindset of the Indian industry. There may be merits in these arguments. But before we deal with each of these, we must remember that similar fears were raised when the first Railway train ran with 3 steam locos from Mumbai to Thane in April, 1853, labelling the introduction as "moving monster".
Bringing change is not easy. But if well managed change can bring in transformation. The task here in addressing the controversies is not unsurmountable. Any Indian who has traveled on the high-speed rail abroad has become a strong admirer of this project back home. The fears of lack of ground level involvement in land acquisition are being examined and substantial efforts and investments is proposed to be put in to get local support in which scenario after land acquisition will reflect progress and satisfaction rather than confrontation especially on issues that concern land holders. As regards finance, only 19% of the project cost is borne by Indian Railways which is about 7% of gross yearly investment currently on IR. Yes, the Japanese soft loan is to be repaid but this funding strategy is the ideal way to fund big ticket infra projects. Repayment is 15 years away and this duration is reasonably sufficient to generate operating profits to repay loans. Moreover, the allocation to IR infrastructural development has not been reduced. Instead it has also been sizeably increased – be it track replacement, laying of new tracks, rolling stock acquisition or signaling. Do remember that IR has recently concluded the biggest ever Public Private Partnership (PPP) tender for High horse power Electrical & Diesel locomotives with own resources and unique financing model for conventional tracks. High Speed train will be for common man as well. Let us not make the mistake of evaluating high-speed rail on fares alone. It will be unjust. The amount of travel convenience the system will generate – same day return back home, extra generation of working time, no disruption of family establishment and new high end technology must find its place in evaluation. And IR had to choose one country among the High Speed system of the world. The whole equation clicked with Japan – politically, financially and technologically. Historically too, the association with Japan on Dedicated Freight Corridor project of IR provided the comfort for any future tie-up.
The 'Make in India' concept is a strong motivation for Indian industry to develop and imbibe High end Railway technology and take a forward leap in the Railway sector. Presently volumes may be low. Change in mindsets on both sides is needed, yet a silver lining is visible as changes are happening. This is evident in the intensive deliberation by Indian industry with their Japanese counterparts while looking for Joint Ventures or knowledge tie-up. These deliberations with Japanese industries also brought out reservation on their part for 'Make in India' initiative. Some of these are: Quality control by Indian industries is not upto mark, Indian industry may emerge as a competitor in high speed rail market worldwide etc.; why to duplicate manufacturing facility when sufficient capacity is available in Japan and so why to invest in India? At the same time there was concern as to how Japanese manufacturer should select their Indian counterpart as mutual partnership in Rail Sector that has been limited to only Metro services, which is completely a different area visa vis Mainline Rail Services. After Taiwan, this was the next export of Japanese High Speed Rail technology and hence not much knowledge of export market. The Automotive sector had seen a robust technology partnership between Indian & Japan, which was not the case in Indian Rail sector. Efforts to procure 200 Electric Locomotives from Japan for Dedicated Freight Corridor Corporation had also not materialized. In this background of deficiency in interaction for co-operation, High Speed Rail was required to grow and then flourish. Given the strong commitment of Government of both the countries, it is getting clear that the association has nurtured well and concept of 'Make in India' has been accepted by Japanese industry.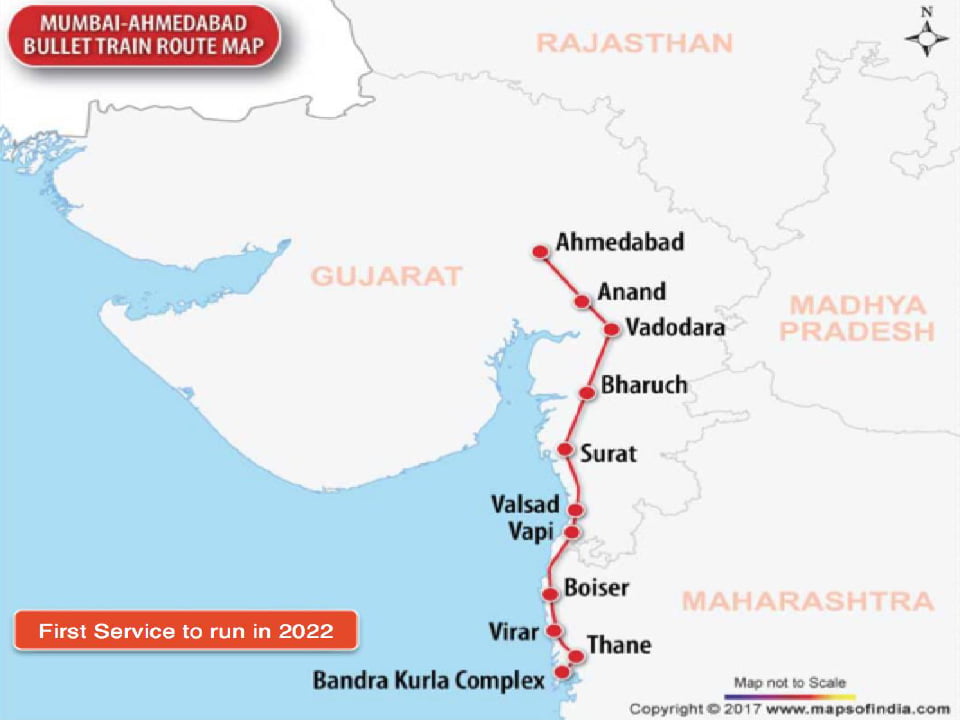 Salient features of Mumbai-Ahmedabad High Speed Rail Project
Length
508 kms (Undersea tunnel = 20.6 kms)
Stations
12
Operating speed
320 kmph
Rolling Stock
EMU type (17 Ton Axle load)
Train length
10 Cars - 750 seats and 16 Cars – 1200 seats in future
Number of trains
35 in year 2023
Daily users
36,000 per day both ways
Journey time
Fast train: 2.07 hrs
Slow train: 2.58 hrs
Project completion cost
INR 1080 billion
1850 Billion JPY
16.3 Billion USD
Japanese loan
81% of above
Implementation Agency
National High Speed Rail Corporation Ltd, New Delhi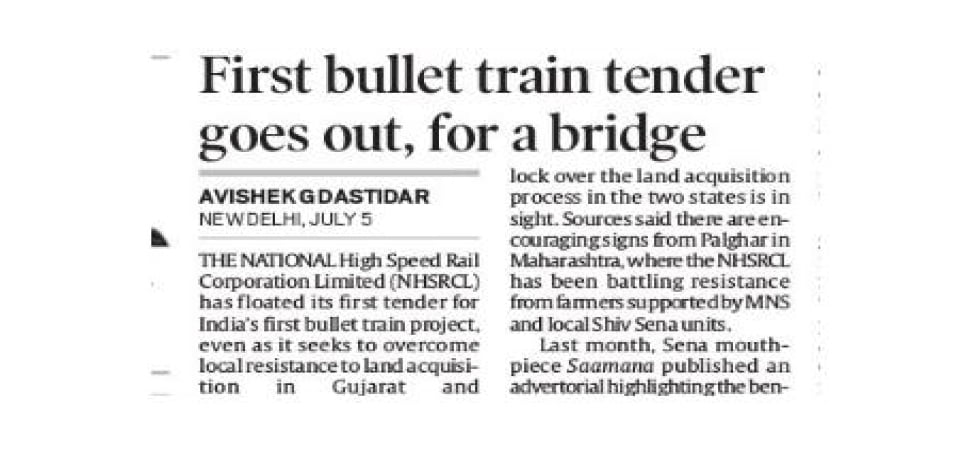 All this appears to be a faultless start on the dream project. There are challenges to construction which includes undersea tunneling, human resource development including training and a strong pressure on NHSRCL for adhering to schedule. It is a complete change in working ethics where the train punctuality is measured in "seconds" and not in "minutes". This is not going to be easy, yet it will bring out the best practices in project management and international association. There cannot be a scope for going wrong.
High Speed Rail system has a bright future in India as the demand for "more" is coming up from various parts of the country. IR has a proposal for 7 more High Speed Rail corridors and this could be lucrative to high-speed rail contenders worldwide including Japan. Will there be an Indian technology for High Speed Rail is a question, which is premature at present? However, IR may very much appreciate Indo-Japanese version of High Speed Rail network in India with a strong 'Make in India' component. But before this happen, let us wait for 15 Aug. 2022. Prime Minister Shinzo Abe, while doing the 'Bhoomi Pujan' of this project on 14.09.2017 did remark that it shall be his earnest desire to travel with Prime Minister Narendra Modi from Mumbai to Ahmedabad in the inaugural trip of High Speed Rail. The Indians and Japanese shall love this to happen.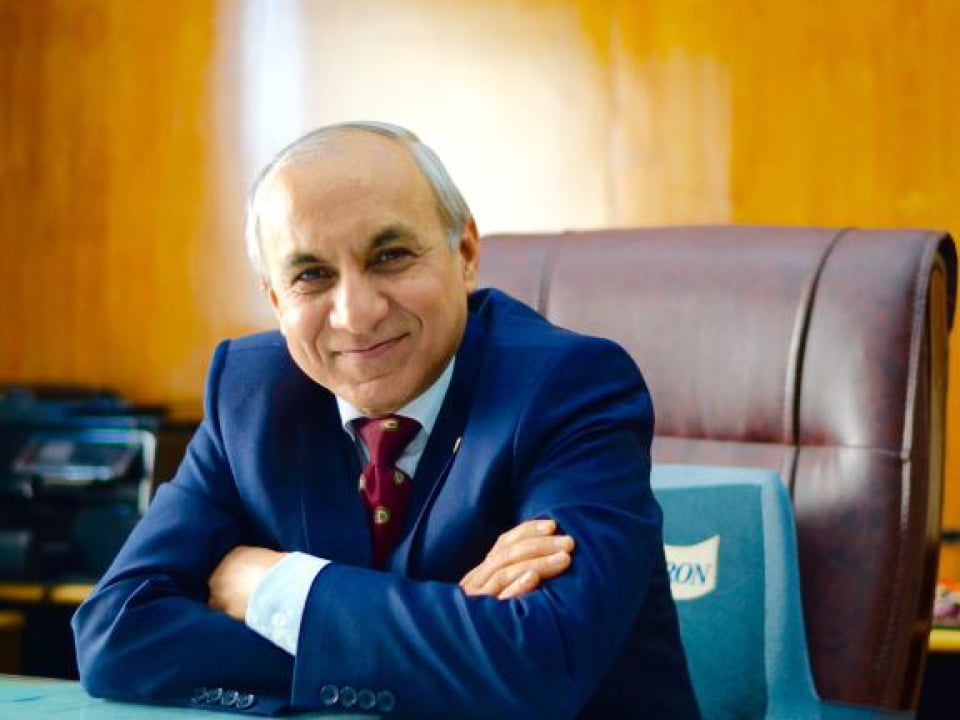 Arunendra Kumar is former Chairman of Indian Railways and has served IR for about 40 years in various capacities. He was instrumental in bringing Japanese Shinkansen to India. He was also responsible for many innovative initiatives like introduction of 100% FDI, development of Dedicated Freight Corridors, modernization of Railway Stations and introduction of first medium high speed train in India – Gatiman Express from Delhi to Agra. Now he is leading the Railway verticals at JBM Group, New Delhi, India as President of Rail & Urban Transport.
*All pictures and images are provided by the author.